Evacuate Pipelines | Eliminates Flaring | Accelerate Purging | Portable | Set & Forget PLC Control
The PS175 Pipeline Service Compressor is a 2–stage (reciprocating and rotary screw) natural gas compressor for evacuating natural gas pipelines with pressures up to 1,200 psi (8,275 kPa). Isolated sections of pipeline are evacuated and discharged into an adjacent section of pipeline.
The PS175 compressor completely eliminates flaring, venting and the associated environmental impacts while conserving saleable natural gas. As gas is not released during the evacuation process, the compressor can be operated in built up and urban areas, reducing the length of pipeline isolation required and allowing for faster service with less disruption to customers.
Trailer mounted and engine powered from pipeline gas, performance can be monitored remotely with real-time status on any web-enabled device. Operation is fully PLC controlled and automated based upon user configured parameters and setpoints.
Standard Features
2–stage compression for ΔP up to 900 psi (6,200 kPa )
Natural Gas powered; no external fuel or power source required
Rapid setup and breakdown
Aftercooler limits discharge temperature to protect plastic / composite pipe
Intuitive web browser based HMI
Fully controllable based on user parameters and stop conditions
Automatic operation and remote monitoring capability allowing unsupervised operation
EPA / CARB Certified Natural Gas engine
Benefits
Energy savings and conservation of gas
Completely eliminate flaring and venting
Minimize CO2 and methane emissions
Reduce isolated pipeline pressure to 0 psig
Ability to reach vacuum pressure of -3.0 psig
Able to locate in urban areas to minimize service disruption
Alternative to nitrogen displacement
Inline compressors can remain in operation
Engine
175hp 10.3L V8
Operating Pressure Range
0 - 1500psi
Flow Range
0 - 9100 mscfd
PSC175 Compressor Weight (Not including trailer)
~10,000lbs/4,535kgs
Enclosure Dimensions
Length: 20'/6.1m
Width: 8'/2.44m
Height: 8'/2.44m
Trailer Dimensions
Length: 30'/9.14m
Width: 8'6"/2.59m
Height: 12'10"/3.91m
Gas Pipeline Evacuation
Inline Inspections
Maintenance and Repair
MAOP Testing
Pig Pushing
Pressure Boosting
Decommissioning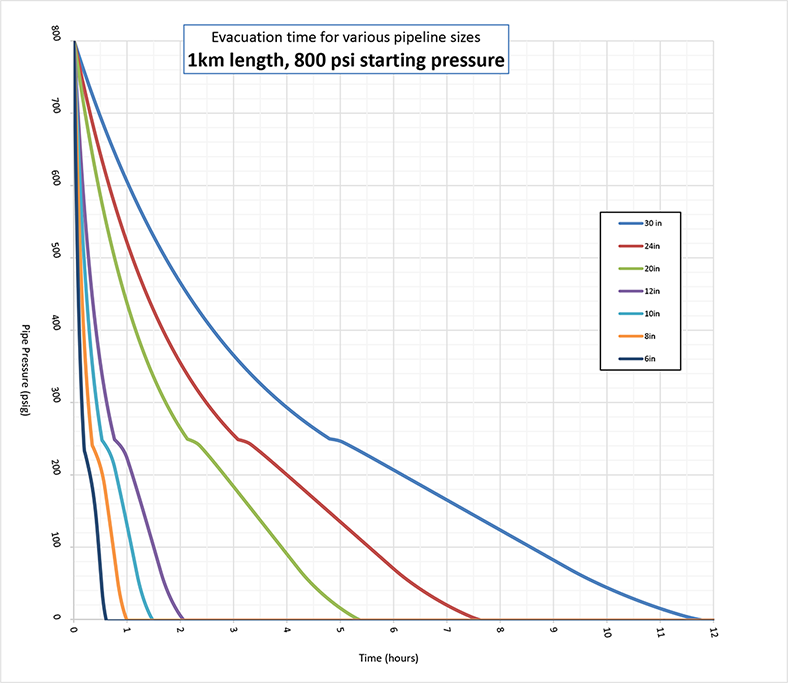 Performance
DISCHARGE PRESSURE Max ΔP: 900 psi / 6205 kPa

SUCTION

PSI
kPa
300
2070
400
2760
500
3445
600
4135
700
4825
800
5515
900
6205
1000
6895
100
690
885
25.1
818
23.2
745
21.1
744
21.1
677
19.2
660
18.7
630
17.8
200
1380
1535
43.5
1391
39.4
1256
35.6
1130
32.0
1017
28.8
660
18.7
630
17.8
787
22.3
300
2070
2530
71.6
2372
67.2
2222
62.9
2081
58.9
1946
55.1
1817
51.5
1691
47.9
1577
44.7
400
2760
3389
96.0
3227
91.4
3075
87.1
2929
82.9
2788
78.9
2652
75.1
2310
65.4
500
3445
4276
121.1
4113
116.5
3957
112.0
3807
107.8
3662
103.7
2934
83.1
600
4135
5210
147.5
5044
142.8
4885
138.3
4731
134.0
3818
108.1
700
4825
6168
174.7
6001
169.9
5840
165.4
5051
143.0
800
5515
7153
202.6
6984
197.8
6820
193.1
900
6205
8192
232.0
8008
226.8
1000
6895
9191
260.2
Projected Performance based on 2500 ft, gas density .665, temp 68ºF – Flow Rates in mscfd e3m3/day . Dual stage operation. Steady state flow rate. Flow rate reduces with pipeline pressure during evacuation. Contact Compact Compression for applications over 1000 psig