Processes gas fractions 0-100% | Easily Field Serviceable | Wide range of API gravity & viscosity | SkyView Reporting | Set & Forget PLC Control
Compact Compression's Multiphase Transfer Pump (MPTP) is directly descended from the ground-breaking HCG Compressor, several of which have been employed in multiphase pumping service. Its principle of operation is very similar to the HCG Compressor with several key enhancements to product design and materials to increase performance, reliability and serviceability for multiphase pumping applications.
The MPTP is specifically designed for use at a satellite or header where production from multiple wells is collected. The resulting drop in line pressure allows the wells feeding into the MPTP to produce more.
The MPTP costs less than installing individual compressors on each well, has more throughput with less peak power demand and has a lower service cost than an HCG Compressor in multiphase service.
Separate pumps, compressors, separators, flares and process control systems at satellites can be eliminated with the MPTP. It can replace aging and maintenance intensive field infrastructure, reducing field OPEX. Lead times for new equipment, turnaround time for repairs and maintenance, capital costs and operating expenses are an order of magnitude less compared to typical twin-screw multiphase pumping systems.
Standard Features
Capable of 100% liquid fractions instantaneously
Average liquid rates up to 887 m3/d (5,577 bpd), 30% swept volume
Maximum ∆P up to 2415 kPa (350 psi)
Handles wide range of API gravity & viscosity
100% turndown capability
No minimum liquid volume required through pump
Highly tolerant of entrained solids
Extremely robust intake and discharge valve design
Optimized power utilization
Seals can be easily replaced on site
No additional lifting equipment required for servicing
Superior user interface – web browser HMI
Benefits
Decreases flowline pressure at wellhead
Reduces head and power requirements for downhole pumps
Eliminates the need for separate pumps and compressors at satellite facilities
Eliminates flaring from separator vessels at satellites
Low capital and operating cost
Very quick turnaround for repair and maintenance
Motor
50 hp
Operating Pressure Range
Upto 1500 psi
Maximum Differential Pressure
350 psi
Average Liquid Flow Range
5,577 bpd
Gas Flow Range
0 - 1367 mscfd
MPTP Weight
3,200 lbs/1,452 kgs
Power Pack Weight (Electric)
2,750 lbs/1,247 kgs
MPTP Dimensions
Length: 172"/4.37m
Width: 25"/0.63m
Height: 56"/1.42m
Power Pack Dimensions (Electric)
Length: 103"/2.62m
Width: 53"/1.35m
Height: 78"/1.98m
Multiphase Fluid Transfer
Group Emulsion Header Boosting
Field Production Optimization
MPTP Schematic
*Information is provided as a guideline only, contact CCI for exact layout. (Click schematic to download)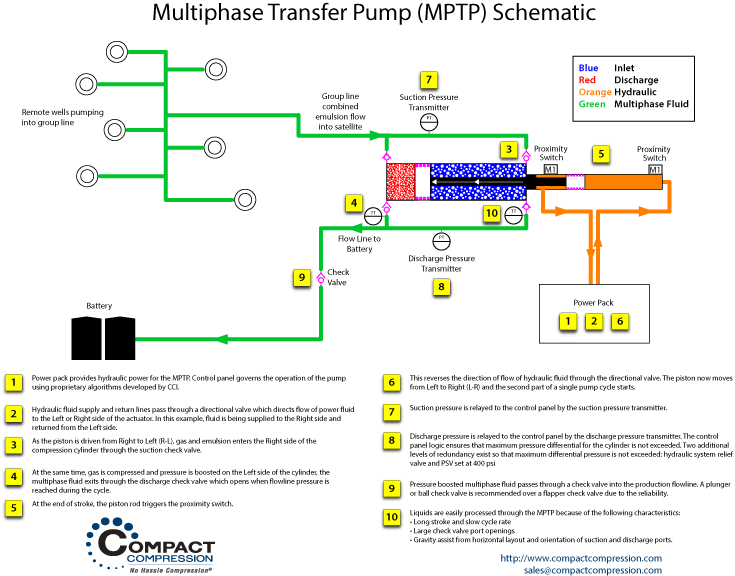 Performance
MPTP 50hp Motor - Projected Performance
DISCHARGE PRESSURE (psig/kPag)

SUCTION(psig/kPag)

PSI
kPa
100
700
150
1035
200
1380
250
1725
300
2070
350
2420
400
2760
450
3100
500
3450
10
70
133
3.8
123
3.5
93
2.6
70
2.0
53
1.5
48
1.4
20
140
198
5.6
187
5.3
144
4.1
112
3.2
86
2.4
81
2.3
30
210
265
7.5
254
7.2
227
6.4
179
5.1
144
4.1
113
3.2
40
280
331
9.4
322
9.1
290
8.2
230
6.5
183
5.2
145
4.1
50
345
397
11.2
389
11.0
357
10.1
279
7.9
233
6.6
178
5.1
75
520
563
15.9
554
15.7
536
15.1
420
11.9
332
9.4
263
7.5
247
7.0
100
700
720
20.3
711
20.1
643
18.2
510
14.4
411
11.6
334
9.4
312
8.8
150
1035
1044
29.5
1034
29.2
931
26.3
732
20.7
595
16.8
486
13.7
450
12.7
200
1380
1367
38.6
1358
38.4
1204
34.0
952
26.9
777
22.0
637
18.0
Projected Performance based on 2500 ft, gas density .665, temp 68ºF – Flow Rates in mscfd e3m3/day
Table values based on 100% gas fillage. Liquids volume reduces gas throughput proportionally as a percentage of swept volume
Swept Volume
Hyd. Pump
Maximum Flow
Maximum ΔP
Pressure Range
m3/d
bpd
psi
kPa
Very High
1360
8550
350
2413
High
1750
11,010
270
1861
Medium
2180
13,710
220
1517
Low
2660
16,730
170
1172