Compressor Processes Liquids | Works With Any Lift System | No Pneumatic Valves or Vessels | Automated Capacity Control | SkyView Reporting | Set & Forget PLC Control
The HCG compressor has a new and novel compression element designed specifically for low-volume solution gas applications. It's simple, robust and low cost design eliminates the need for the most common failure points of traditional Casing Gas compressors: pneumatic control valves and liquid separation and pumping equipment.
Compact's HCG compressor is designed to process liquids, so there is no possibility of liquid lock. It does not have pneumatic control valves, a scrubber, float switches, or a liquid pump, which means less downtime due to failures. The new compressor is also independent of the pump jack so both the pump jack and compressor can be individually managed to maximize oil production; the compressor's capacity control system will rapidly reduce and maintain casing pressure at an easily set level.
Our HCG compressor is simple and quick to install or remove which minimises production losses and associated cost due to service or installation. Further, in the unlikely event of a shut down, the SkyView call out system will instantly notify Compact Compression service to expedite a response. Less downtime, fewer failures and reduced operating costs is how the new HCG compressor will increase production and profits
As with every unit produced by Compact Compression, the new HCG compressor continues the theme of reducing hassle for the operator with increased profits and minimal customer investment. Compact Compression offers flexible and affordable options for both renting and purchasing which includes their all-inclusive approach to service and maintenance. With the launch of the new HCG compressor, there has never been a more hassle-free way to optimize production.
Model Comparison
*Information is provided as a guideline only, contact CCI for exact sizing.
15hp HCG - 6" Cylinder
15hp Electric motor* or gas engine drive
50hp HCG - 10" Cylinder
50hp Electric motor* or gas engine drive
Cylinder Size
Cylinder Size
Low Pressure
613
Max ΔP 225psi
1022
0 - 225psi ΔP
0 - 3 e3m3/day
2 - 10 e3m3/day
High Pressure
616
Max ΔP 350psi
1028
200 - 375psi ΔP
0 - 2 e3m3/day
1 - 5 e3m3/day
*Electric motor available in 480V or 600V
Hydraulic Casing Gas Compressors for Sour Service (CHC0615 and CHC1050)
Compact Compression developed the hydraulic casing gas product line from the outset to be suitable for sour gas service. All process wetted structural or pressure containing metal parts are constructed of low carbon steels that comply with the NACE MR0175 standard for sour service. Chemical composition and hardness meet the requirements for usage in SSC region 3, as defined by part 2 of the standard. All elastomers and polymers used for seals are materials selected for resistance to sour gas and acid attack. The gas seal distance pieces are vented back to suction to ensure gas only needs to be vented when service work on the compression element is required. All process piping has been designed to ASME B31.3 Normal service, 1500 PSI MAWP, and all units are hydrostatic tested, including the compression cylinder. For service greater than 2000 ppm, compact compression recommends the use of the optional corrosive service piping, which offers increased corrosion allowance by using thicker wall pipe and fittings. Regardless of piping selected, regular inspection is required to monitor corrosion. 
HCG Schematic
*Information is provided as a guideline only, contact CCI for exact layout. (Click schematic to download)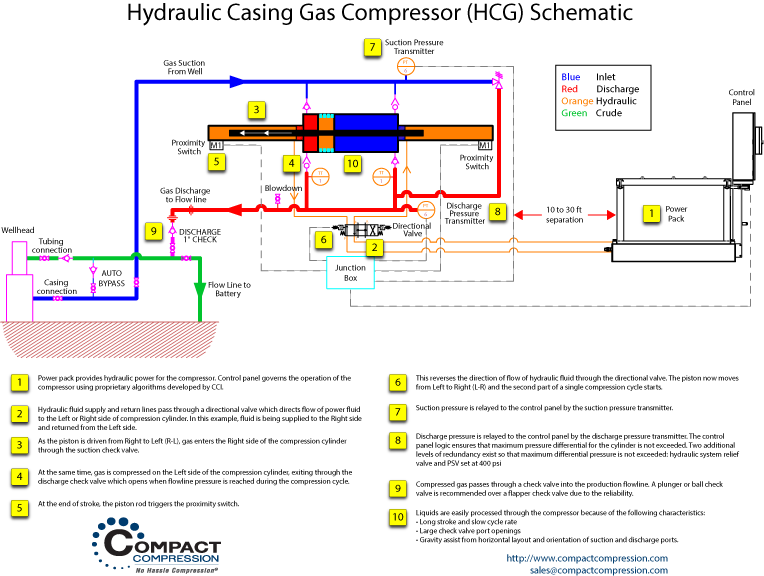 Video Clips
Video clips of the HCG liquid handling test and compressor installation.