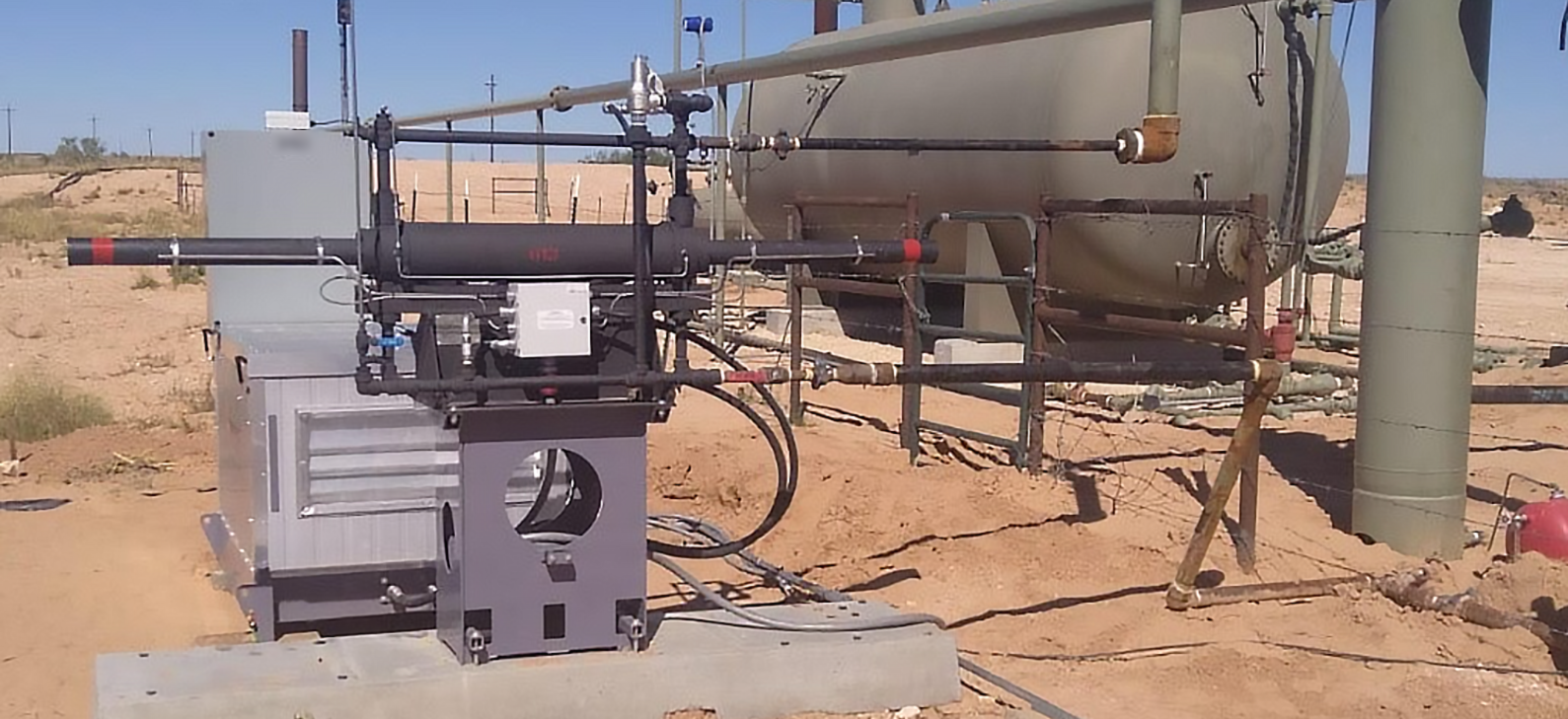 Extremely Tight Suction Pressure Control | Compressor Processes Liquids | No Pneumatic Valves or Vessels | Automated Capacity Control | SkyView Real-Time Reporting | Set & Forget PLC Control | Best-In-Class Reliability
Vapor Recovery, the capture of methane and longer chain hydrocarbons, CO2, VOC's and hazardous air pollutants and preventing their release to the atmosphere, has become a critical requirement for today's Oil & Gas producers. A number of factors drive Vapor Recovery: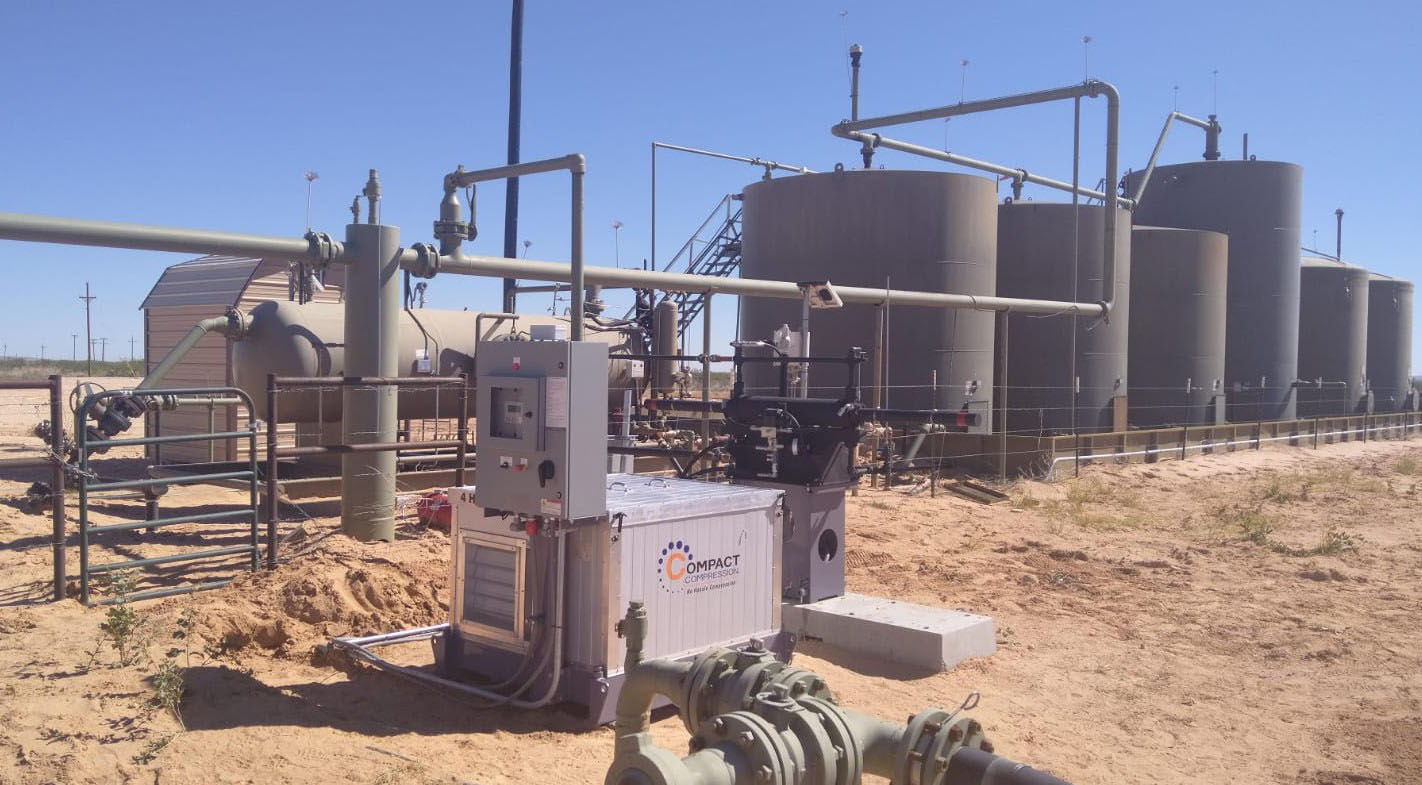 Meeting regulatory emissions standards
Elimination of flaring, incinerating and venting
Capture of valuable methane and longer chain hydrocarbons for substantial revenue gain.
These goals are easily realized using Compact Compression's line of Hydraulic Vapor Recovery Compression Systems (HVR). Developed from our foundational, proven HCG design, our Hydraulic VRU models have applications in gas capture from storage tanks, treaters, separators, seal vents on large reciprocating compressors used in natural gas transmission and throughout gas storage operations. The Compact Compression HVR line of compressors come with low cost of ownership and a return on investment often achieved in a matter of weeks.
The Compact Compression Hydraulic Vapor Recovery Compressor Philosophy
We have focused on 3 primary technical objectives when designing our systems:
1. Compression of saturated hydrocarbon gas in the presence of liquids
2. Eliminate the need for inlet liquids separation
3. Eliminate the need for costly scheduled maintenance

HVR Features
The HVR is ideally suited for wet or dry VRU applications! Liquids, including slugs, are processed right in the compression cylinder and no inlet liquid handling equipment is required.

Extremely tight suction pressure control. The HVR uses a high-resolution suction pressure transmitter to allow the system to control suction pressure to within 1 inH2O (0.6 oz/in2) of target pressure.
Click to view HVR Suction Pressure Control Testing


HVR qualification testing carried out by CCI Engineering confirmed that even at a low suction volume (94 ft3), our HVR systems are capable of controlling suction pressure with extremely high accuracy and precision, to within 1 inH20 of the setpoint.
100% turndown capability. The HVR pauses the compression stroke when it senses the supply of gas to the compressor stops, resumes when gas supply resumes.

HVR self-regulated capacity control. The compressor only needs to be sized for maximum expected flowrate and the unit will auto-adjust to volumes below the maximum.

No VFD

Unit auto-restarts after power loss

No fugitive emissions. Suction and discharge pipe spools are made of threaded joints, compressor seals are vented to compressor suction so there is no opportunity to vent to atmosphere.

Sour service capability. Optional NACE compliant PSV and heavy wall piping for sour service.

SkyView. Condition-based monitoring via SkyView leads to low-cost, highly efficient demand-based maintenance.

Communications with customer systems. PLC easily interfaces with customer control systems via Modbus, Ethernet / IP protocols or other means as required.

Compression cylinder field replacement. Compression cylinders are fully field-replaceable and have an average field life of 2 years prior to rebuild.

Low maintenance. Average maintenance interval is 2 visits / year (across 1,000 units)

Low hydraulic oil consumption. ~0.025 gal/d - oil top up twice / year

Highly experienced engineering support. >150 performance upgrades implemented over 5 years.

HVR configurability & versatility. Hydraulic Vapor Recovery models are configurable for a wide operating envelope to meet ΔP and production rate requirements.

Wide operating ambient temperature range. -40°F to 130°F (-40°C to 55°C)

Best in class reliability! >99% uptime.

Low cost of installation and ownership

Availability & delivery timing. For most models 4 to 8 weeks delivery.
Hydraulic Vapor Recovery System (HVR) Model Comparison
Hydraulic Vapor Recovery Compressor (HVR) Schematic
Options
Power Pack Enclosure

Hydraulic Heat Trace

Inlet Particle Filter

Configurable for varying operating DP and flow (Options for motor, hydraulic pump, compression cylinder size, multi-stage units)

Electric or gas drive available

Skid or trailer mounted units
Video Clips
Storage Tanks
Treaters
Separators
Seal Vents on Large Reciprocating Compressors used in Natural Gas
Transmission
Gas Storage Operations
| | | |
| --- | --- | --- |
| Vapor Recovery Compressor | hp | Suggested Use |
| HVR10 | 10hp | Storage Tanks, Seal Vents |
| HVR15 | 15hp | Storage Tanks, Treaters, Separators |
| HVR50 | 50hp | Storage Tanks, Large Seal Vents |
| HVR75 | 75hp | Storage Tanks, Gas Storage Operations |